Cheap tuk-tuk fare to the inner city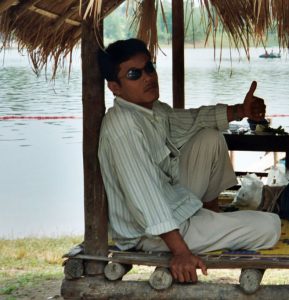 Early afternoon, after a break, I decided to go wandering the city. I am taking it easy today and want to visit some famous temples in the inner city. My guesthouse has its own tuk-tuk driver, for 40 baht he brings me anywhere I want to in the city. While driving he tries to ask for more money, but I can decline his request reasonably quickly.
Wandering the city from temple to temple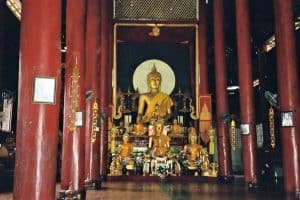 My driver drops me off at the farthest temple, Wat Phra Sing, the rest I will walk on foot. Next, I go to Wat Phan Tao and the adjacent Wat Chedi Luang. What strikes about these temples is that you always have a modern part with one or more Buddhas and behind that, you will find the remnants of the original temple. In my opinion, especially Wat Chedi Luang is impressive. At the exit, a tuk-tuk driver tries to persuade me to make a trip past several temples, plus some handicrafts centers. But I can rule that out quickly. That typifies Chiang Mai a bit, they offer you their services – with recommendations and the like, but without insistence.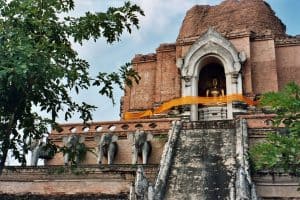 Sayings from Buddha
On foot, wandering the city further I walk to the oldest temple, Wat Chiang Man – at least I think I visit this one afterward it becomes clear that it was a different temple. Around the whole complex, there are sayings from Buddha about life, on small, green signs, both in Thai and in English. Some of them hit the nail on the head.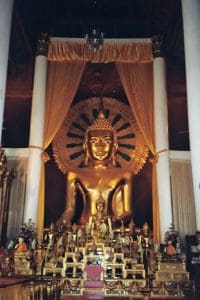 Late lunch at a sandwich bar
Having seen four temples today seems enough for me. I flatter down on the small terrace of a sandwich bar and order a late lunch. The principle here is simple: you choose what kind of bread you want, and you add some toppings. The tuna with accessories, a potato salad and a real ice-tea based on lime taste delicious.
Looking for a bar to linger
I don`t want to spend too long wandering the city today and head for the Night Bazaar, which is gradually being set up – later on, it turns out (again) it is a different market. I am mainly looking for a bar to linger. Across the river, there seems to a pub attracting many tourists, The Riverside. So that is where I am heading to. Only, at half-past six in the evening, things are slowly getting into gear. Even though more and more people gradually show up, I am not staying. I'm too tired and secondary, it's a far too big set-up.
Chatting with the staff
After a second shower in the guesthouse, I am off to the bar for a few beers. The serving staff starts to talk to me; about her boyfriend who wants to get married too soon, going out, and the like. There are two other maids – I suspect they are working here, one of which looks at me regularly and laughs somewhat nervously. Both barely speak English, so I ignore them.
Drinking too many beers
Somewhat later, a Dutch couple shows up. I get into a conversation with them; about their four-day trekking starting tomorrow, about my previous trips, their journeys, music, and even politics. In short, it turns out – even though I did not really want to hang around here for a long time – that I consume several pints of beer, until they call it a day (because of their trek tomorrow).
Not knowing how to deal with the situation
Right before closing time, another – assumed – maid appears. She wears a beautiful black dress, hair loose. I notice that she is interested in me, to what extent I can`t estimate. Until the owner of the guesthouse tells me that the girl wants to go out with me. However, I do not know how to deal with this situation, so I back off to my room to go to sleep, alone that is.