Thai soup for breakfast
On my second day in Chiang Mai, I want to make a trip to Doi Suthep. Because of drinking late last night I wake up quite late. One of the staff told me yesterday she was going to make Thai soup for breakfast. When I arrive at the bar at half-past eleven, I can still get a bowl. The soup is delicious, not spicy, just a lot of Thai vegetables and some meat. Maybe a bit strange to start the day, but the late hour justifies the choice.
A frustrating start of my trip to Doi Suthep
Doi means mountain in Thai, on top, there is a must-see temple. According to the guesthouse staff, I have to stop a songthaew and say where I want to go. The ride to Doi Suthep may not cost more than 70 baht. However, it turns out to be a somewhat frustrating experience, which almost inclines me to abandon my plan. All drivers I address, tuk-tuk or songthaew, want 300 baht for the ride.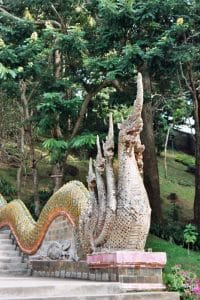 Poor English at the Tourist Information Office
I decide to go to the Tourist Information Office to ask them how to arrange my trip to Doi Suthep on my own. Out of the poor English of the servant in the office, I distilled that I should catch a red songthaew and that the ride will cost around 150 baht. That is still double what I was told at the guesthouse. Eventually, I find a tuk-tuk driver who wants to bring me to the right street for 50 baht and from where I have to take another songthaew to Doi Suthep.
The red bus only leaves when there are enough passengers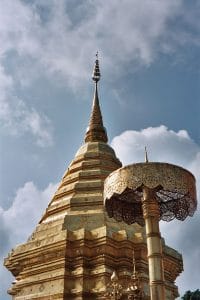 Once there, the red bus driver tells me that the journey costs 60 baht back and forth, but he will leave when there are eight passengers. Five minutes later, there are only 3 people, we can go for 100 baht each. Until after a short time an American couple shows up. That makes five people, for 80 baht per person we can leave. We agree. Once we arrive, we learn that we have to be back in an hour.
Pilgrimage site with a beautiful view over Chiang Mai city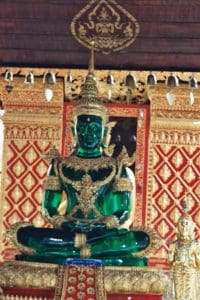 Doi Suthep can best be described as a Buddhist pilgrimage site and the most important one in Northern-Thailand. Places of interest are the golden chedi and an emerald Buddha. In clear weather, the mountain also offers a beautiful view over Chiang Mai city. But today the city is covered in a kind of haze. I walk around the site and head back to the exit. To conclude my trip to Doi Suthep, at one of the numerous food stalls, I order a banana rolled in dough and warmed like a waffle, topped with honey. The result makes for a delicious snack, I am tempted to order a second one.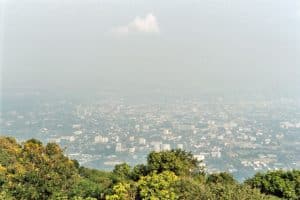 Losing direction at Thapae Gate
Back at the departure point of the songthaew bus, we hear that our driver can take us back to a location in the city center of our choice. I get off at the tourist center around Thapae Gate with the intention of going to eat well in a resto recommended in my travel guide. But although I am really in the neighborhood, I can`t find the place. Eventually, I enter a random restaurant and order a noodle soup.
Searching to find my guesthouse again
After this sober meal, I step further into what I think is the right direction to the guesthouse, but that does not turn out to be correct. I hand down a tuk-tuk with a female driver this time. She does not know the guesthouse (again), initially asks too much money for the ride, but I persist, and 10 minutes later we arrive at my play of stay.
Entertaining conversation with an Australian
After a refreshing shower, I visit the bar in the guesthouse again. I would like to check out the nightlife in the city, but I am still in doubt. Eventually, I just stay at the bar all night. I get into a conversation with an Australian, pretty disturbed, but funnily. He appears to have been around almost everywhere in Asia, and even lived in Taiwan for 7 years. Many juicy, messed up stories follow; almost every possible subject passes by, women, meditation, raves, music, deprivation, literature, and more. Clearly, this is someone who can not accustom to everyday life. A strange guy, but very entertaining to listen to.