Heading for the ancient city of Ayutthaya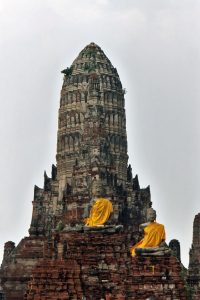 After waking up, I take an extended breakfast. After all, there is a travel day ahead, a six-hour drive to visit the Khmer-style temples of Ayutthaya, a famous ancient city famous just above Bangkok. The guesthouse owner is such an incredibly helpful lady: she drives me to the bus station, buys me a ticket, and shows me which platform I have to board. After saying goodbye to her, I quietly wait on a bench for my bus to arrive. The bus shows up at 9:45 am, the scheduled time of departure.
The bus stops along the road
Occasionally the bus stops at a bus station, but I can not tell where we are precise. Around 3 p.m., I see a road sign stating: Ayutthaya – 35 kilometers, so I start paying attention. But as this is Thailand, the bus staff notifies me when I have to get off. The stop is a bit strange this time, not at a bus station, but just along the road. Simultaneously with my bus one more stops; it seems the Dutch couple I already came across in Sukothai took this one. The three of us join a tuk-tuk to the city center.
A bit challenging to find accommodation during Loy Krathong
Once there, all guesthouses in the area appear to be fully booked because of Loy Krathong. At a tourist office, the staff starts enquiring about accommodation. After several phone calls, a hotel is found which still has sleeping accommodation available. The only downside, it is 5 kilometers outside the center. My room is not too bad, for one night anyway. Tomorrow I will try to find a hotel or guesthouse somewhere more inside the city. There is something strange going on with this city. Is it the Loy Krathong festival? It could be. Everyone seems to have lost the plot a bit. Hopefully, tomorrow will be a bit quieter.
In a pick-up truck to the city center
The next morning the Dutch couple and I agree to go to the center of the city together. Once outside the hotel, packed and sacked, there is no tuk-tuk to be found. But my Dutch companion manages to stop a pick-up truck and shows the guesthouse's business card where we want to go. We drop our luggage in the cargo space and crawl behind the driver's seat ourselves. The Thai couple drops us off at the guesthouse, and we even do not have to pay anything for the ride, another illustration of Thai friendliness.
Exploring the Khmer-style temples of Ayutthaya by tuk-tuk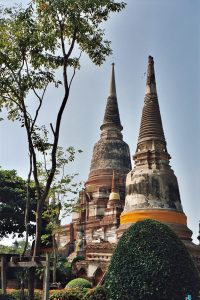 After checking in, someone approaches us to take us to the essential Khmer-style temples of Ayutthaya by tuk-tuk; the tour should take about three hours. For a moment, I still consider renting a bike to see some temples, but with the heat in mind, I soon drop the idea. That is a decision I will not regret later on. After a drink in the guesthouse, we leave. Immediately we drive to a temple outside the city center – Wat Yai Chai Mongkhon, with a reclining Buddha and beautiful Khmer-like ruins. By bicycle I would never get here, that is for sure.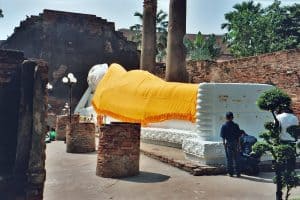 A temple with an imposing sitting Buddha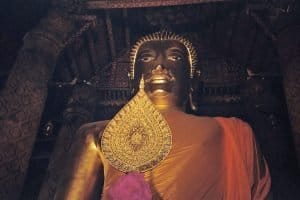 Then we visit a nearby modern temple with the largest sitting Buddha in Thailand. And yes, the statue is imposing. On the banks of the river, there are vast schools of catfish being fed. After this visit, we drive to another, remote temple which even more than the first one illustrates the Khmer-style temples of Ayutthaya, beautiful. Then we pass another reclining Buddha; apparently the original, of which a gold-plated copy can be found in Wat Po in Bangkok.
Obligatory stop at the Buddha-head fused between the roots of a bodhi-tree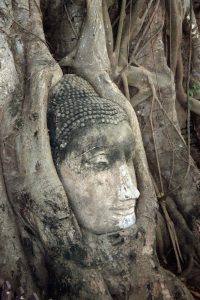 At a souvenir stall, I buy an Ayutthaya-Buddha, in copper, so to speak, but I have no illusion about its authenticity. It is a beautiful figure, though. We visit another temple with the second-largest seated Buddha. Nearby we look at another temple with three remarkably well-preserved chedis. And then we finally arrive at the ruin with the well-known, abundantly photographed Buddha-head fused between the roots of a bodhi tree.
The heat takes its toll
After this last stop, all three of us feel we saw enough ruins. The phenomenal heat makes us long for coolness, a good meal, and some rest. Eventually, we visited the highlights of Khmer-style temples of Ayutthaya in half a day. So we are pleased to be taken back to the guesthouse.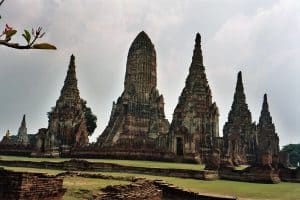 Walking in the wrong direction
In the evening, after having taken a shower, I head to a restaurant for dinner, on foot. I walk a long way and have to conclude that I am entirely strolling in the wrong direction. Along the way, I am approached by a so-called businessman. He wants to talk to me so he can provide his sister with some information about Belgium. She is supposed to leave over there in two weeks to work in a hospital.
An illegal proposal
Intuitively I feel that something is wrong. When he asks me if I have ever used marijuana in my younger days, I answer that I am against drugs and end the conversation. I walk a bit on the way back, but eventually, I stop a tuk-tuk to drop me off at the guesthouse again.