Trying to catch a deal to guide us around in Siem Reap
We woke up at 5.15 am to take the express boat to Siem Reap. Our motorcyclists are present at half-past seven at the entrance of the hotel. The ship leaves at seven o'clock. One of the drivers asks me if he could assist with transportation, a pick-up, or a boat to a hotel or guesthouse of my choice. The underlying motivation, of course, is that this person will try to guide us around in Siem Reap and the motorcyclist here in Phnom Penh will catch some commission for this.
Splitting up the commission at the boat terminal
But I had already made some commitments at the boat terminal yesterday. As a result, when we arrive at the terminal I explain this to both parties; they will make a deal between themselves. In our case, a certain Mr. Kasal will be waiting for us on arrival in Siem Reap.
The express boat to Siem Reap is a blatant tourist trap
Stow as many people as possible together in as little space as possible, with minimal legroom. The express boat to Siem Reap is a blatant tourist trap. Some tourists settle themselves outside, on the roof. That is in my opinion, not a smart idea; there is a lot of wind and a significant chance of sunburn. Moreover, there is not much to see along the way.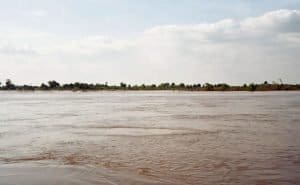 Apart from some fishing villages nothing much to see
During the first part, we sail through a rather narrow channel, or rather, the outfall of the Tonle Sap lake. Once we are on the lake itself, you can barely see the shore. Occasionally you will pass a fishing village, but that doesn`t provide a spectacular sight. Many passengers, however, think differently, every village that gets passed generates a massive photo-shoot.
Complete chaos when disembarking at an improvised dock
The trip with the express boat to Siem Reap eventually takes six hours and ends in the floating fishing village of Chong Kneas, near Siem Reap; that is, depending on the season, as the village moves. The scene at the improvised dock, there is no real quay, is hallucinatory. At least one hundred Cambodians are waving with signs. Some of them display the price for a ride to the city; others mention the names of guesthouses or the names of tourists.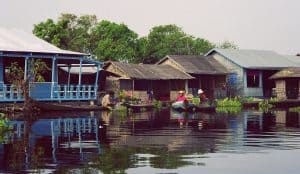 Desperate to put bread on the shelf
Even before we disembark, some guys have already walked inside the boat to recruit customers. On the one hand, this illustrates the need to put bread on the shelf, on the other side, it also proves the complete chaos that prevails here regarding tourism. A structured approach is entirely absent.
Trying to reach the guesthouse of our choice
We head off as fast as possible with Mr. Kasal. As somehow expected, he starts to propose some hotels. But we stick to our plan to check the guesthouses of our choice. Our first option does not turn out well; the guesthouse is closed due to renovations. According to our driver, to reach our second choice, we have to drive all the way back.
Arranging transport to visit Angkor Wat
Our map of Siem Reap proves different; the guesthouse is more or less around the corner. We look at the rooms, which are spacious, clean, with a shower and toilet, and a fan. The price is also to our liking, so we stay here. Mr. Kasal backs off and starts talking about our plans for tomorrow. I tell him that we want to visit Angkor Wat with a tuk-tuk, not by car. If he can arrange that, we have a deal.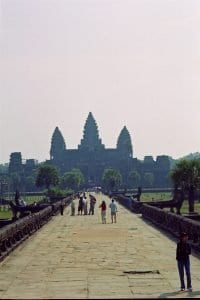 Siem Reap focuses on tourism
Taking it easy for the rest of the day, we refresh ourselves, eat something in the guesthouse and then walk into town. Siem Reap is a lot quieter than Phnom Penh but mainly focused on tourism. We walk past a market and then head for Chantiers Ecoles, a project to teach young people the skills of wood and stone sculpture, a valuable initiative. When we pilot into the shop, however, they appear to charge high prices. As our conscience stays clear, we don`t buy anything and stroll further through the streets for a while.
Hard to make a living in Siem Reap
After dinner, we enter a bar with a pool table. The lady behind the counter starts a conversation. Together with her Dutch companion, they try to make a living in Siem Reap running this bar. This year there seem to be few tourists in town, so their pub is not running smoothly. The Dutch manager is already pretty drunk when he comes over to talk with us.
A story of a failed enterprise
We find out he pays 1000$ debt per month, without money reaching into the drawer, due to hardly any customers. This is a story of a failed enterprise, and the man is getting a nervous breakdown. Of course, we are not untouched, but this is not going to end as a happy night of going out in Siem Reap, so we drop off after our second pint.
Nightlife seems to start late
We quickly find the nightlife entertainment area in the city center of Siem Reap and end up in a bar and small dancing club where a Western DJ is playing reasonably to excellent music. I order another pint; my travel companion no longer wants alcohol, which means that he orders Russian vodka, (also because of the somewhat limited choice of non-alcoholic drinks). Eventually, he pours down 3 of them. Customers seem to get in quite late, around 1 o'clock. However, I want to enjoy my first temple day at Angkor Wat tomorrow, so we walk back to our guesthouse.