A bumpy road sitting at the back of a motorbike
After breakfast, we reserve our bus to Phnom Penh for tomorrow at the reception. Outside at the entrance of the hotel, we negotiate our trip to the Killing Caves for today with the drivers present. Eventually, we leave with two reasonably young guys on the back of their motorcycles. Soon we leave the asphalted road, and we drive on a wide sandy road towards Phnom Sampeau. The way there is really bumpy – with a lot of holes, therefore the Cambodians themselves call this dancing road as you get continuously shaken up and down. After 45 minutes, we are on the spot, that is to say, at the foot of the mountain. We have to do the rest on foot.
The killing caves are another proof of the cruelty of the Khmer Rouge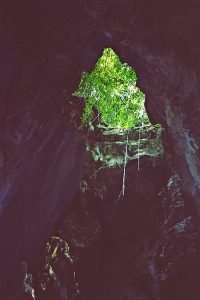 One of our guides joins us upstairs to give an explanation. On the first hill, there is a pagoda that was redesigned as a prison by the Khmer Rouge. There are also a few killing caves, just niches in the rocks, where the slaughtered prisoners were thrown in. Bor, our guide, describes how they were killed; all means were suitable, hanging, beating with bamboo sticks, throwing children in the air, and landing them on bayonets.
More than 10.000 people died in this area
You can not imagine any cruelty that the Khmer Rouge did not practice. All that mattered was hard work in the countryside; when you ran out of energy, or if you became ill, that was enough to die a terrible death. Here at the Killing Caves of Phnom Sampeau, around 10,000 people died.
Still some political influences by former Khmer Rouge members
Bor also exemplifies the contemporary, political corruption. Many rulers of today have their base in nearby Pailin, near the Thai border. A number of them had essential positions within the Khmer Rouge at the time, but can now participate undisturbed in the highest political ranks. He can not understand that people tolerate such a thing.
Killing caves filled with skulls and bones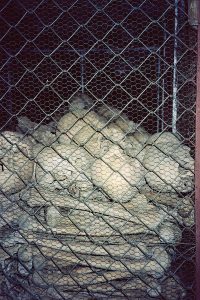 We descend into two killing caves where we see the skulls and bones of many deceased people. Testimonials from elderly people who have experienced this hell claim that blood was up to almost half a meter in these caves. The corpses were just rolled in; some people were even pushed in alive. The Phnom Sampeau area a front line of battle for a long time, where the Vietnamese and state troops took a stand against the Khmer Rouge. The area still has quite a few landmines left.
A temple with many monkeys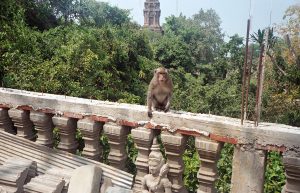 After this confrontation with the remnants of the Cambodian holocaust, we visit a nearby temple on an adjacent hill. Beautiful buildings, but not really of great historical value. Nice is that a group of monkeys is hanging around here; we can photograph them from pretty close.
A restored Khmer temple on top of a hill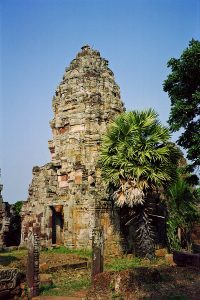 Via several country roads, past small farming communities, we drive to Wat Banan, a historical temple dating from before Angkor Wat. This time we are accompanied by our other guide. The climb to the top is quite tough, 350 steps. Once we reach the top, we stand in front of a typical Khmer temple; the place was restored because it was entirely destroyed by the Khmer Rouge at the time. The mountain itself has also functioned as a defense post for a long time.
Pétanque and throwing dice
After our stop at Angkor Wat, this temple is less impressive to see, but still enjoyable. A few children are playing in front of the place. Some boys play a variant of pétanque, for money, their sandals serve as a throwing ball. Two girls are throwing dice with stones.
Kids accompanying tourists to the temple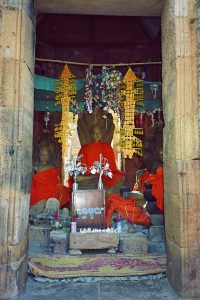 When our guide explains about the temple, one of the girls starts to get involved, and an argument arises. Apparently, this girl usually accompanies the tourists upstairs and provides some explanation. Our supervisor disapproves of that; she would better go to school, which he is right about. It speaks for itself that her mother instructs her to do this job. How do you survive in a country full of lawlessness and corruption, without any social safety net?
Refreshing sugar cane and strong rice wine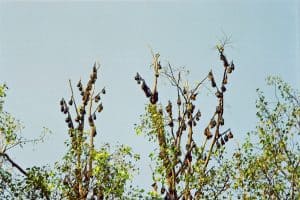 After freshly made sugar cane drink, we continue driving past local farming villages, stop at a tree with fruit bats, and then pass some fruit plantations. We pause at a local farmer who serves us abundant fruit and rice wine; pineapple, guava – a kind of sour apple, green orange, and sticky rice. My travel companion and I think that suffices for our evening meal.
Bamboo train as an alternative means of transport
Then we head to the last stop of our Killing Caves day trip, the bamboo train. At the time Cambodia built a railway between Phnom Penh and Battambang. But after the Khmer Rouge period, trains did not immediately return to serve this line. As people had to be able to move things -from point A to point B, they invented the bamboo train; a railing on two dismantled axles of a tank or truck, and to which a motor was coupled. Talk about inventiveness. Nowadays this bamboo train is mainly a tourist attraction.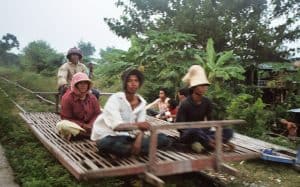 Back to Battambang at 40 kilometers per hour
As we drive back to Battambang, the train makes quite a speed, I estimate about 40 kilometers per hour; a spectacular finish of our day trip. When we get off the bamboo train, it is already dark. Fortunately, we only have to drive a few kilometers to reach the center of Battambang city. We say goodbye to our young guides of today; they were competent, entertaining, and excellent drivers.
Hilarious sound mix show
Today there was a boat race on the Stung Sanker, which we missed, and in the evening there is a buzz on the promenade along the river, with food stalls and some sound mix-like performances. The sound mix part is an attack on your music sensitivity, there is plenty of false singing. A little further we find a stage where couples have to perform a slow dance and one more up-tempo. The couple that receives the most applause gets a tube of some beauty product. Especially the up-tempo part of the dancing makes some hilarious scenes.
A day trip showing cruelties and rural life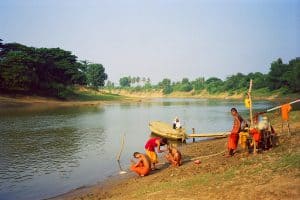 Battambang has been an excellent experience for us. Today's day trip to the Killing Caves made us one more time aware of the brutalities of the Khmer Rouge regime but has also given us a good idea of rural life here in Cambodia. Tomorrow we will leave for Phnom Penh again by bus.