Figuring out when the bus leaves to Kumily
Yesterday I learned how to avoid the detour to Kochi over Madurai. So in the morning, I enter two more travel agencies to inquire about a bus ride to Kumily, near the Periyar Nature Park. Twice I hear there is only one local bus a day leaving from Kodaikanal; one source states at 12:30, the other says it has changed to 14:30. To make sure I walk to the bus station to check. For once, the departure times of the buses are also indicated in English; it appears the bus departs to Kumily at 14:15. The ride will take 5 to 6 hours, so I will be arriving in the dark.
Punjar festival in honor of Shiva
After breakfast, I arrange some practical matters. I double-check about my bus ride to Kumily and I need to change some money, but the bank will be closed all day. Later during the day, I find out why; today and tomorrow, there is the Punjar festival celebration. From noon onwards, loudspeakers spread all over Kodai will be blaring loud, Indian popular music. Many vehicles appear decorated with banana leaves and flowers, and there are also splashes of butter on the cars.
Symbols in honor of Shiva on my door
When I want to open my hotel room in the evening, I see three yellow horizontal stripes and a red dot on my door. I conclude the celebration is in honor of Shiva. I am afraid it will be a noisy night because I see large loudspeakers placed across the street from my hotel room. Later in the evening, a rain shower breaks loose, that is my salvation, as the music installation gets disconnected.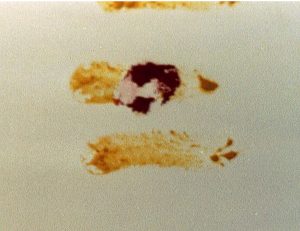 Hard to hike out of the city without a street plan
In the late morning, I try to start the walking route the sympathetic agricultural engineer described to me yesterday. There are no accurate street plans in Kodai, so things quickly go wrong. Behind the church of Saint-Mary, whatever, the path goes quite steep downhill, but I do not manage to get out of the city, so I decided to hike back to return to my starting point. Then I opt to visit the botanical garden located near the lake. The park has not so much to offer, and I also feel a bit tired, so I return to my room for a siesta.
A short conversation with some medical staff
I am not given much time to rest, though. After an hour, the music outside plays so loud outside that I go out again. I walk back to the Kodaikanal Lake with the intention of visiting my conversation mate at his plant stand yesterday. Unfortunately, he is not present. At a tea stall, some Indians start talking to me. They came over to Kodaikanal for a picnic today in honor of the Punjar festival. All five of them work in the same hospital somewhere in Kerala. Our conversation does not last long, as they are bound to return to their bus.
Lots of time before my bus ride to Kumily
The next morning, first, I have breakfast, and then I check whether the bank is open today. Not so, as today is still a holiday in the context of the Punjar festival. The bus ride to Kumily will take 5 to 6 hours by local bus. I take my time to pack my things. When checking out, the man at the reception asks to stay another day. Probably they do not get that many western tourists here. I settle down in a seat of the entrance hall, after all, I still have more than two hours, and read about Kumily and Periyar.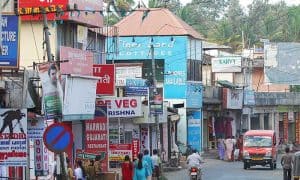 A good illustration of Indian time
At a quarter to two, I say goodbye and head to the bus station. It turns out to be another excellent example of Indian time; at a quarter past two, there is no bus to Kumily yet. I go to the reservation stand where I am told the bus regularly shows up late, so I have to be patient. Some taxi drivers and travel agency bellboys inform me that the bus will not show up today. I start to doubt that myself. Finally, the vehicle gets through at a quarter past three. The conductor urges me to get in quickly.
Sitting in the back of the bus is not the best option
I can sit in the backseat with my backpack next to me. Not exactly the best place on these bumpy roads in India. But I can keep a close eye on my backpack, a reassurance as this bus ride to Kumily will be mostly in the dark. During the descent, five of us sit in the back of the bus.
Gesturing for my sweater
Gradually more locals get off so that we are left with two. The other – an Indian carrying a ton of unidentifiable liquid – is watching me closely. I smile kindly, which I should not have done because suddenly he pulls on my sleeve. He gestures that he is cold and wants to take my sweater. I say no three times. Luckily he gets off the bus half an hour later.
Best to ignore some local trouble makers
Once down on the edge of the Ghats, the bus stops regularly in local bus stations. From Theni, the largest city in the district where we drive through, a thunderstorm erupts. People regularly get on and off. A man who has been drinking clearly gets on the bus. First, he sits somewhere in the middle of the bus, but then he looks back and spots me. It does not take long before he comes over, I get the drinking odor for free. He wants a pen and a cigarette from his friend – me. The best way to get rid of these trouble posts is to ignore them completely. Fortunately, this man also leaves the bus after a while.
A thunderstorm while traveling in a leaking bus
Meanwhile, this thunderstorm still continues. No problem, you would think, as you are comfortable and dry on the bus, but this is India. The vehicle leaks from all sides, through the windows, but also through the roof. It takes a while before I reckon all the rainwater is flowing down on the floor where my backpack is. I can still limit the damage, but after a while, it gets really wet around my seat.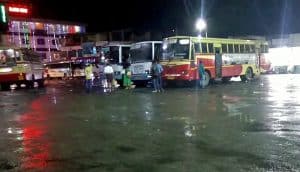 An adventurous bus ride to Kumily in the dark
A young guy invites me to sit next to him. The bus is now almost empty, our bus ride to Kumily is nearing its end. He only speaks some basic English, but we are getting along. In the pitch dark, we drive further uphill to Kumily, quite an adventurous experience. And suddenly – earlier than I expected, around a quarter to nine – we reach our final destination.
Convenient hotel near the bus station
The boy kindly shares his umbrella on the way to my hotel, which, fortunately, is located close to the bus station. We say goodbye. His parents work in a hotel nearby, close to the entrance to the Periyar Nature Reserve. My hotel is perfectly fine; I rent a spacious, well-kept room with a European toilet and a balcony. Apparently, some Europeans are staying here, I am curious if I will meet them.